May 2012 Newsletter and Romney Poll
This is an update on the current news and views about the Conservative Party USA
~~~~~~~~~~~~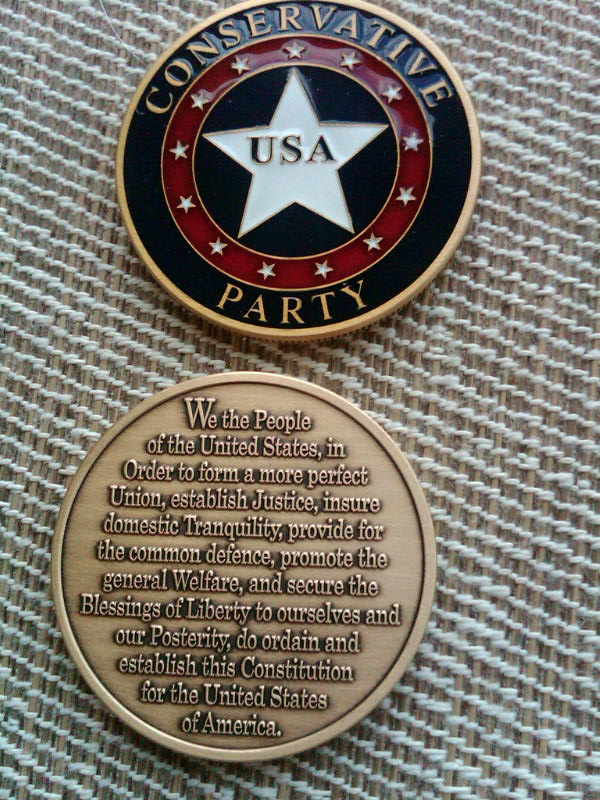 Get A CP-USA Medallion
* CP-USA welcomes Keith Westbrook as new President of CP Florida
CP-USA is pleased to announce that Dr. Keith C. Westbrook Ph.D. agreed to help lead CP-FL. Keith will help Dick Page (Chairman) grow the party and advance conservatism.
Read Bio
Read Keith's explanation on why he assumed this important job.
"Why did I say Yes?"

By Keith Westbrook: keithcwestbrook@gmail.com
The first thing I learned from my military days was NEVER VOLUNTEER FOR ANYTHING. So what possessed me to accept the office of President of the Conservative Party (Florida)? Good question.
I was approached by CP-USA's Chairman several months ago. Harold reached out to me after reading several of my blog posts trying to change a system that refuses not only to be changed but crucifies the responsible person. We discussed CP-USA and I informed him I was not only aware of the party but had reached out in the past to learn more and what its goals were political ballot registration. We ended the discussion with the promise of staying in touch.
Several months went by and my frustration and rage grew because of the maneuverings of the political powers that were manipulating the Republican Presidential primaries. I registered for the first time in my life (I have been a registered Independent since 1984) as a Republican to specifically vote for the candidate I felt best reflected my viewpoints. Before I could, however, they were eliminated from the race; not by voter choice but by unsubstantiated allegations and political backstabbing.
The Rockefeller Republican arm reached out and choked off every Conservative candidate and left us with a guy who has never been -- or ever will be -- center right on any issue other than tableware for place settings. He is a CINO (Conservative In Name Only) while it suits his campaign, just like the Fascist we now suffer under was a liberator while he campaigned, rescuing us all from the evils of DC "politics as usual" and showing us a whole new meaning to the words Hope and Change. Right now 75% of this country is hoping to survive his change until it can be changed back.
Two years ago I read a great book by Angelo Codevilla titled "The Ruling Class: How they Corrupted America and What We Can Do About It".
Read this eye opening article
It reminded me of why I'm volunteering to stick my neck out when I know better is: I can no longer wait for them to change, because it is beyond their capability in that environment; neither major party will allow it. We are suffering at the hands of a class system all right but it is not the Entitlement Class but the Ruling Class that exists in both major parties for 100+ years since the Wilson Era of politics. At first it was primarily fostered within an "elite" group of academicians but as their power base grew so did its political arm, the Democrat Party. Since the Republican Party was left playing the role of country club wannabes in DC, they have consistently caved on every important "Conservative" issues to go along to get along.
Republicans have shown the same destructive policy making tendencies as the Democrats; on a smaller scale but just as destructive in the end. The two-party system must end before it destroys our Republic's political system for good, disenfranchising generations of future voters before they ever get to vote. We have allowed ourselves to become an Oligarchy where a select few delegate to an entire population with very little difference in their approach to ruling.
If I want my vote to count again and the votes of the "Conservative Majority" of which we are part then I/we must get into the game and push back against their two-party rule. We cannot wait for the change that has been promised by the same Republican Party that just gave us Mitt Romney as their presidential candidate.
I am no longer more afraid of what might happen for taking the chance than I am for not taking it. I am no longer worried that some liberal progressive socialist ruling class elite will try their tricks of defamation, condescension, denigration, lies, race-baiting or anything else they might think of to smear me into silence because it won't work. Their agenda for this Republic is far more frightening to me than anything they can say about me and unless they are stupid enough to go after my family with threats than I am in.
And maybe that last reason is the real reason I said yes. I have said it for almost two years since her birth but it is the truth. When my granddaughter is 15 years old I do not want to answer this question from her: "Grandpa; why didn't you stop this when you had the chance?"
Well?.....
* Short Poll – Should true conservatives vote for Mitt Romney in November?
If you think we should then email your response to:
YesOnPoll@cp-usa.org
If you think we should not, tell us why:
NoOnPoll@cp-usa.org
* New CP-USA Medallion
CP-USA is pleased to offer these beautiful medallions to people who make automatic credit card contributions of at least $10/month or who make a one-time donation of $100 or more.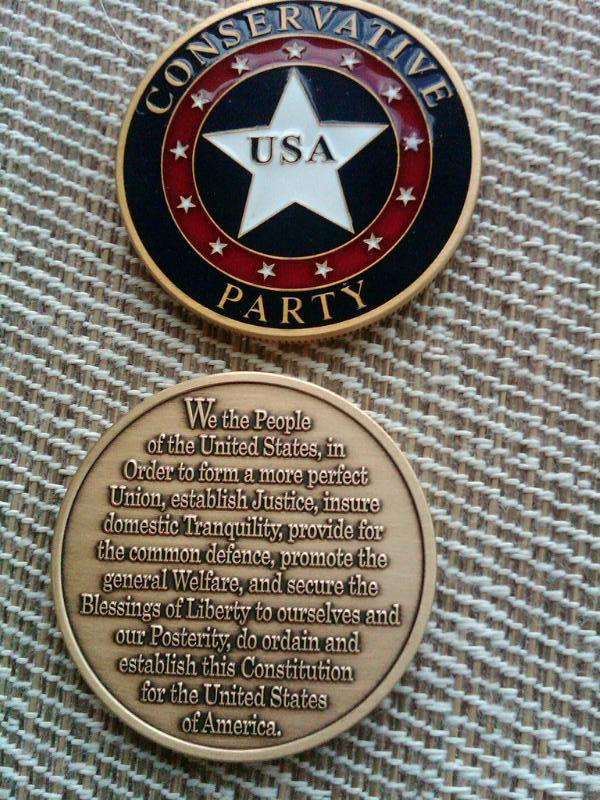 These silver dollar sized medallions have the
CP-USA
Seal on one side and the start of the Preamble to the Constitution on the other. They are great keepsakes, gifts and promotional items. Donate and
Get a CP-USA Medallion
* Some Thoughts on Volunteerism
By Sam Gallo, Chairman Emeritus: samgallo@cp-usa.org
CP-USA lives and grows by the quality and dedication of its volunteers. Our Party depends on the good works of people who understand the goals and aspirations of an organization founded on the guiding principle that the major parties have failed America. Volunteers also know we have an uphill battle against entrenched special interests. The spirit of such courageous people is reflected nicely in this inspiring verse from clergyman and author, Edward Everett Hale.
I am only one, but I am one.
I cannot do everything, but I can do something.
The something I ought to do, I can do.
And By the grace of God, I will.
* Enjoy this great Reagan video parody by comedian Steve Van Zandt
.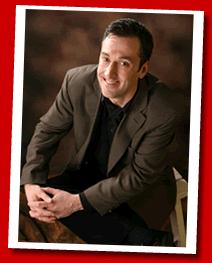 * The Conservative Crew (CC) Project
CP-USA is pleased to announce that we've launched the Conservative Crew (CC) as part of our Project Mayberry initiative. CC allows each CP-USA affiliate state to add a slate of local conservative candidates (Crew) it will endorse in the November elections. Each participating state will have a special website page highlighting its CC Slate. Please work with your state leadership to identify and support local conservative candidates.
See CC Examples:
Conservative Party (Oregon)
Conservative Party (New Jersey)
* Suggested Reading List
"The Debt Bomb: How to Stop Bankrupting America"
By Senator Tom Corburn (R. OK)
Coburn diagnoses the mess that career politicians in both major parties have made while misusing their sacred charge to govern.
"America's Ruling Class-The Perils of Revolution"
by Angelo M. Codevilla
The only serious opposition to this arrogant Ruling Party is not coming from feckless Republicans but from the Country Party - and its vision is revolutionary.
"How To Buy American"
by Roger Simmermaker
We must buy American so there will always be an America.
~~~~~~~~~~~~

Regards,
--
H. Michael Hervey
Chairman
Conservative Party USA
Twitter: @hmhervey
---
---
Conservative Party USA
9655 Perkins Road - Suite C130
Baton Rouge, Louisiana 70810-1534
USA


Read the VerticalResponse marketing policy.