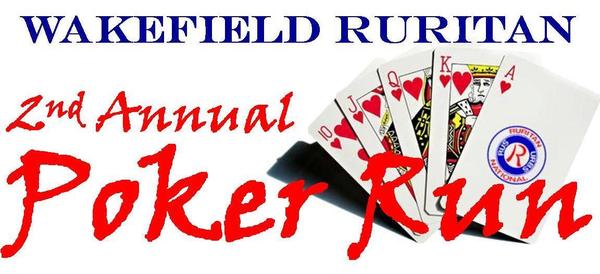 Saturday, August 24, 2013
Location: Wakefield Sportsman's Club
12205 Brittles Mill Road, Wakefield, VA 23888

Registration: 8:00 am to 10:00 am
First Bike out at 9:00 am—Last Bike out at 10:00 am

Cost: $25 - Rider; $15 - Passenger (Optional)

Meal: A delicious meal will be provided following the ride.

Many Great Prizes Are Available to Win!
---
You are invited to join the Wakefield Ruritan Club on Saturday, August 24th for their 2nd Annual Poker Run!The ride will start from the Wakefield Sportsman Club, located at 12205 Brittles Mill Road, Wakefield, VA (same location as the famed Shad Planking) and will cover an 80 mile loop through the rural countryside of Southeast Virginia. After the ride, we will again gather at the Wakefield Sportsman Club for a fantastic lunch and recognition of the top hands.

For additional information on the ride, registration information or sponsorship opportunities, please call 804-731-5236, email us at chris.simms@shadplanking.com or visit us on Facebook at www.facebook.com/wakefieldruritanpokerrun.

All of the funds raised from the event are invested within the Wakefield Community and support such community organizations as Wakefield Youth Baseball/Softball, Wakefield Foundation, Wakefield Fire Department, Rescue Squads, Wakefield Food Pantries, Tidewater Academy, 4-H and many others.
Please join us for a great day of riding filled with fun, great food, fabulous prizes and help the Wakefield Ruritan Club further its mission of Fellowship, Goodwill and Community Service!
---
All Riders and Motorcycles Welcome!
---
---
Wakefield Ruritan Club - Shad Planking
P. O. Box 148
Wakefield, Virginia 23888
US


Read the VerticalResponse marketing policy.